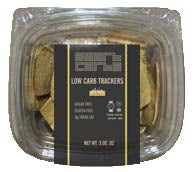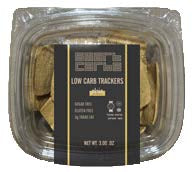 Product Description
Indulge in the smart choice with Smart Carb Low Carb Crackers 3oz—a box of toasted goodness that's not only low in carbs but also sugar-free and gluten-free. These crackers redefine your snacking experience, offering a delicious blend of crunch and flavor without the guilt.
The Smart Snacking Advantage: Discover the smart way to snack with Smart Carb Low Carb Crackers. Each tracker is a testament to the perfect balance of flavor and nutrition, providing a satisfying crunch without compromising your dietary goals.
Sugar-Free Delight: Experience the delight of a sugar-free snack that doesn't skimp on taste. Smart Carb Trackers are crafted with sweetness derived from smart choices, allowing you to enjoy the goodness of trackers without added sugars.
Gluten-Free Goodness: Enjoy the goodness of gluten-free snacking with Smart Carb Trackers. Perfect for those with gluten sensitivities, these trackers open the door to a world of flavor without the worry of gluten-related concerns.
Toasted Perfection: The art of toasting reaches new heights with Smart Carb Trackers. Each tracker is toasted to perfection, enhancing the flavor profile and providing a delightful crispiness that elevates your snacking experience.
Versatile Pairing: Whether topped with your favorite spreads, cheeses, or enjoyed on their own, Smart Carb Low Carb Trackers are a versatile companion for any occasion. Elevate your snacking moments with these smart and flavorful trackers.
The Smart Carb Promise: Smart Carb understands the importance of making intelligent choices when it comes to your snacks. With these low carb, sugar-free, and gluten-free trackers, Smart Carb ensures that you can savor every bite without compromising on your health-conscious lifestyle.
Why Choose Smart Carb Low Carb Trackers: Make the smart choice for your snacking moments with Smart Carb Low Carb Trackers. With the perfect combination of low carbs, sugar-free sweetness, and gluten-free goodness, these crackers redefine what it means to snack intelligently. Elevate your snacking experience with the crunch and flavor of Smart Carb—a box of toasted perfection that aligns with your smart and healthy lifestyle.
Back in stock

Gluten Free

Kosher

New Arrivals

Sugar Free