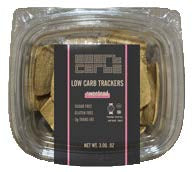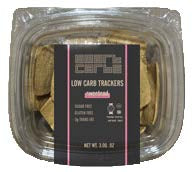 Product Description
Satisfy your sweet cravings the smart way with Smart Carb Sweetened Trackers 3 oz—a box of delightful, low-carb treats that are not only sugar-free but also gluten-free. Indulge in the perfect blend of sweetness and health-conscious choices, redefining your snacking experience.
The Smart Sweetness Advantage: Discover the smart sweetness of Smart Carb Sweetened Trackers. Each sweet tracker is a testament to the perfect harmony of flavor and nutrition, offering a delightful treat without compromising your low-carb and sugar-free lifestyle.
Sugar-Free Bliss: Experience the bliss of a sugar-free sweet treat with Smart Carb Sweetened Trackers. Crafted without added sugars, these trackers allow you to enjoy the sweet goodness of a treat without the worry of unnecessary sugars.
Gluten-Free Indulgence: Enjoy the indulgence of gluten-free sweetness with Smart Carb Sweetened Trackers. Ideal for those with gluten sensitivities, these sweet trackers provide a world of flavor without the concern of gluten-related issues.
Irresistibly Toasted: The art of toasting reaches new heights with Smart Carb Sweetened Trackers. Each sweet tracker is toasted to perfection, enhancing the flavor profile and providing a delightful crispiness that makes your snacking experience even more enjoyable.
Versatile Sweet Pairing: Whether paired with your favorite spreads, enjoyed with a cup of tea, or savored on their own, Smart Carb Sweetened Trackers are a versatile companion for any sweet occasion. Elevate your snacking moments with these smart and flavorful sweet trackers.
The Smart Carb Promise Persists: Smart Carb continues to keep its promise of making intelligent choices for your snacks. With these low carb, sugar-free, and gluten-free sweet trackers, Smart Carb ensures that you can relish every bite without compromising on your health-conscious lifestyle.
Why Choose Smart Carb Sweetened Trackers: Make the smart and sweet choice for your snacking moments with Smart Carb Sweetened Trackers. With the perfect combination of low carbs, sugar-free sweetness, and gluten-free indulgence, these sweet trackers redefine what it means to snack intelligently. Elevate your sweet snacking experience with the delightful and health-conscious taste of Smart Carb—a box of sweetened perfection that aligns with your smart lifestyle.
Back in stock

Gluten Free

Kosher

New Arrivals

Sugar Free